The Taryn business unit (TGMC, JSC) is engaged in exploration and development of the Company's licenses in the Oimyakon Area of the Republic of Sakha (Yakutia) — the Russia's Pole of Cold.
The main development target of the Taryn project is the Drazhnoye deposit located within the Oimyakon Area, 60 km southeast of Oimyakon and 70 km south of Ust-Nera. This is a remote part of the Republic of Sakha (Yakutia) with an underdeveloped infrastructure and severe climatic conditions.
> 700 Mt p.a.
Processing capacity
53,3 koz
Production in 2019
Taryn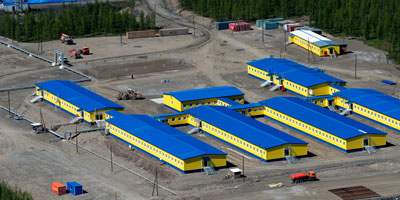 Stage: Production
Geological resources: 1.12 Moz
Processing , kt p.a.: Stage 1: 700 kt p.a.
Gold production in 2018: 93 koz

The Taryn Mine is a new leader among the Company's operating assets and the largest gold mining enterprise in the Oimyakon Area of the Republic of Sakha (Yakutia).
The mine was launched in the summer of 2017 and reached the design parameters in record time. In July, the hourly ore processing capacity of the plant reached 140 t/h, having exceeded the respective design parameter by 12% (125 t/h). In December, the mine reached the designed total gold recovery, attaining 94.4% with the target of 93.5%. The annual average gold recovery was 86.6%.
As at 01.01.2019, the C1+C2 category balance reserves of the Drazhnoye deposit increased by 30% to 49.8 t of gold at the average grade of 2.86 g/t.