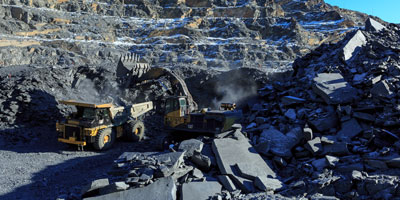 Stage: Production
Geological resources: 2.03 Moz
Processing (kt p.a.): 5 Mt p.a.
Gold production in 2019: 112 koz

The Golets Vysochaishy gold deposit is located 175 km from Bodaibo. The Vysochaishy Mine includes three processing mills, a fire assay laboratory, an open pit mining site, a placer gold mining site, and a mine camp. The deposit development is carried out with two open pits — the Western and the Eastern.
Balance ores with a gold grade >1.9 g/t are delivered to Mill 2, balance ores with a gold grade ranging from 1.0 to 1.9 g/t — to Mill 3, and off-balance ores — to the off-balance ore stockpile.
The total processing capacity of the Vysochaishy Mine's mills is c. 4.5m t p.a. Mill 2 applies the gravity and flotation processing scheme with the flotation concentrate cyanidation. Mill 3 consists of gravity processing with further treatment of the gravity concentrate in the Mill 2 cyanidation plant.